Canterbury Rehabilitation & Healthcare Center
>
Press Releases
>
Canterbury Enhances Pulmonary Rehab Program with 24/7 Respiratory Therapy Coverage
Canterbury Enhances Pulmonary Rehab Program with 24/7 Respiratory Therapy Coverage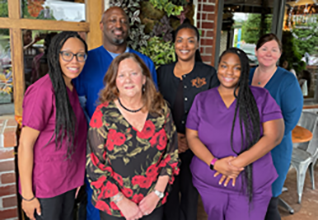 Canterbury Rehabilitation & Healthcare Center in Richmond enhanced its Pulmonary Rehabilitation Program with 24/7 respiratory therapy coverage. Located at 1776 Cambridge Drive, we are 190-bed skilled nursing facility providing post-hospital care, short-term rehab and long-term residential care in Henrico County.
Canterbury's Pulmonary Rehabilitation Program – under the direction of Sajid Naveed, MD, MRCP, the facility's medical director – focuses on promoting independence and quality of life through reducing pulmonary symptoms and decreasing disability in acute and chronic lung patients. Its expanded respiratory therapy coverage is tailored to meet the needs of a range of diagnoses.
Program features of pulmonary rehab at Canterbury Rehabilitation & Healthcare Center include routine physician evaluations, physical and occupational therapy seven days per week (as ordered), and 24-hour licensed nursing supervision. We also establish working communication among all involved parties, including patient, family/caregiver, hospital, practitioner, skilled nursing facility, home health and outpatient services. In addition, the program features the tracking of common metrics with root cause analysis to minimize the progression of debilitating symptoms by combining exercise, breathing retraining and dietary management.
Read the full article on Patch.com
Have a question? Contact the Admissions Department of Canterbury Rehab at (609) 296-9292
If you are inquiring about Career Opportunities with Seacrest Rehabilitation and Healthcare Center please Click Here