Canterbury Rehabilitation & Healthcare Center
>
Press Releases
>
Richmond Native Blake Saunders Spearheads Fundraiser for Nursing Team at Canterbury Rehabilitation & Healthcare Center
Richmond Native Blake Saunders Spearheads Fundraiser for Nursing Team at Canterbury Rehabilitation & Healthcare Center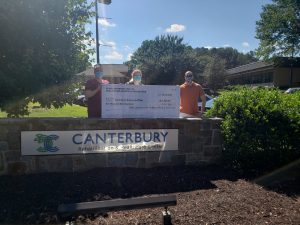 GoFundMe Campaign and Additional Contribution Yield Nearly $7,000
HENRICO, Va.,  July 1,  2020 – Richmond native Blake Saunders set out to show appreciation and recognize the heroism of the nursing team at Canterbury Rehabilitation & Healthcare Center. His effort yielded a successful GoFundMe campaign and partial match; this week, nearly two dozen nurses and certified nursing assistants who worked full-time during the height of the COVID-19 crisis received checks for $300.
Simply put, the Henrico community answered the call put forth by Saunders' "Help our Henrico Heroes Now" campaign, which raised $5,449. The Healthcare Heroes in Action Fund, a Florida not-for-profit that raised a quarter of a million dollars to help Heroes around the nation, donated an additional $1,451, bringing the total to $6,900.
Saunders, a parole and probation officer who supervises the gang unit for the Department of Corrections for Henrico County, previously worked as a dietary aid at a nursing home. He noted this first-hand experience has helped him understand the sacrifice Canterbury's front-liners have made during coronavirus pandemic.
"I have seen how hard nurses work under normal circumstances, and I recognize how truly heroic – and sometimes thankless – their efforts have been over the past three months," Saunders said. "In life, I feel that I've taken more than I've given. I knew organizing this effort to spread love and recognize the tremendous work of the team at Canterbury was an important thing to do." Saunders said he feels a particular connection to Canterbury, having been born in a house on Cambridge Drive – the street on which the skilled nursing facility is located.
"With this contribution to Canterbury's direct care providers, we join with thousands in the Canterbury community and hundreds of thousands throughout the U.S., in saying thank you to our full-time nurses and nursing assistants for caring and doing your very best in the face of an international pandemic that has proven impossible to control," said Aaron Lichtman, a member of the Healthcare Heroes in Action Fund's Fundraising Committee. "You saved lives, lifted morale and always put your residents before yourselves."
Henrico's local businesses, organizations, community groups and individuals have provided countless gestures of kindness and support for the care team at the skilled nursing facility throughout the last few months. Those include hand-made masks, trays of food, guardian angel pins, flowers and more, along with lawn signs, thank you cards and notes of encouragement. 
"We are extremely grateful to Mr. Saunders for all he has personally done to recognize our nurses, and thank the Healthcare Heroes in Action Fund and the entire Henrico community for their support," noted Jeremiah Davis, Canterbury's administrator. "We are truly touched by the community's continued generosity and kindness."
Canterbury in June marked a recoveries milestone, with more than 100 residents and care team members now cleared of COVID-19. The number of recovered residents and staff continues to grow, according to Davis.